Dressing the Blanik
The one thing I settled on right away is a red nose and red wing tips.
A trip to my favorite Auto Paint store to have them scan the red vinyl I figured I would be using. Large areas would be painted. Very expensive ($26 for a custom spray can), but worth it if you want an exact match. Since it would be over silver to save pre-painting white, I did a couple tests before accepting the final color. Matched okay both on silver and on white.

They were dark blue, so primed them white before painting red.
Some tape and plastic wrap, a couple coats of red and a final clear coat.
Just how I wanted it.
Next a side shot so I can play with layouts
After looking at hundreds of Blanik photos, and wanting to be totally unique, I settled on this for the fuse:


Photoshopped from previous image
Since the red area is large, I will be painting it before putting on the blue and white vinyl.
---
Now for the actual work
Cut out some red white and blue stars (slightly different than original layout) and some white and blue striping
(You can buy striping, but it is very expensive. You can get 12" x 30ft roll vinyl from a sign supply for around $10)
I striped the nose and put on the star
I rolled out and cut some masking for pattern. This is a way of being sure both sides will be the same.

Put pattern on plane.

Marked pattern with water based marker (these are great for marking then just wiping off with water).
Then drew the lines.
Next I used green painter's masking tape.

Wiped off the blue marker with water. Cleaned the area thoroughly with alcohol. Sanded with 3000 grit just to be sure.
Masked the rest of the plane

Two coats red followed by two coats Clearcoat.

Red done

I used paper mask with only edge adhesive to layout star placement. Makes a good centerline and you can lift up to place the stars.
Put on stars and all done with fuse sides.

Tips are held on by very strong magnets (40lb pull) and an alignment pin.

I angled the drill so that the top of the wing magnet fits into the tip a bit. Keeps it from twisting.

Wing done. Copied the nose design to the wing tips. Keeping it simple. Most of the full scale planes have little if any wing decoration.
(quick tip -- if you wear a wedding ring -- don't brush the wings off with your left hand)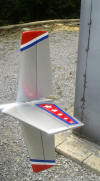 Tail done.

Some minimal leather interior for Woody's comfort.
You can use these or not......
Woody taking his girlfriend Rose for a ride....
Just another day in the life of such a handsome guy.......
Cold weather already....