T&G Sailplane Finder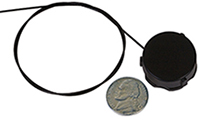 NEW - 5 milliwatt output for range up to 3 miles in the thick woods
Designed for rc sailplanes
Small size and light weight - about the size of a penny - 4 grams
Will not interfere with your R/C receiver
Over 7 days+ of continuous operation from a CR1632 battery (1) included
Supplied with 18", easy to replace antenna*.
$75
---
CR1632 Batteries: (2) for $1.75
---
CUSTOM RECEIVER TG300 $349
RECEIVER
SHOWING ANTENNA FOLDED
RECEIVER
CARRYING CASE
RECEIVER
SHOWING ANTENNA UNFOLDED
These unique features set the TG-300 apart from the TG-100
Covers the entire 222-224.990 MHz Amateur Radio band in 10 kHz steps (300 channels)
Super selective (70dB down @ 4kHz, 80dB down @ 10kHz) 8 pole SSB crystal filter for use in highly congested RF environments
$349.95 including battery, FA-3 folding antenna, and FA-3-C Cloth Case
Email tom@blueridgesoaring.org for actual shipping costs and frequencies
The TG100 is available for $250 only difference is it has 100 channels
---
* TX Antenna may be cut down to convenient size but there is a DB Loss
(3" antenna has 50% loss -- so 1.5 mile ground range 3 mile LOS)
---
Simple Beeper
This turns on when you shut off your transmitter.
If you are within a couple hundred feet, and the plane is still functioning, you will hear it.
$15 to $20 depending on additional functions desired